Parents!
This week has FLOWN by again! Tomorrow is another day of Mass, so please ensure that your child is dress for church in a nice clothes. No leggings or shirts with words. They are allowed to change after church is done if you would like them too!
I am very excited as this week, I have seen the students grow in some amazing strengths with using our math tools and games to help grasp a deeper understanding, and watching them sound out words when they are writing!
One thing to focus on this next few months-is letting your child do their own sounding out. I know we want to work on everything looking "correct" but at this stage in our learning, the ability to sound out the sounds we hear versus the correct spelling is very beneficial!
Math:
In math, we are CONSTANTLY working on many different types of math problems! In class, we are working on number partners up to 10! This is a great time to practice some addition facts with your child!
Creating math equations to create 10-the number of days we have been in school!
Smartboard game to turn our math brains on!
Reading/Language Arts/Phonics/Writing
The beginning of the year is a critical time for all students to look at pictures in books, while reading easy readers! While they are reading, they are picking up the beneficial formation of sentences! They point out when they saw a capital letter, and as a class, we discuss why it is important! We tend to have the same discussion when it comes to punctuation marks and discussing the different type of sentences.
I encourage you to read to your child every night and enjoy the love of words and picture books! The students have worked on reading this week and next week, but not reading in the sense that we think of just words! We have been working on reading the pictures and discussing that our words tell a story--with us creating our OWN stories!
In phonics-next week we are going to be working on short vowel A sounds. The students would know this as A-apple-/a/. However, this will be in the middle of the words, so I encourage to read our poem daily as this will now be sent home in our "homework" binder!
Language arts-we have worked on what nouns were! We have picked out nouns in the classroom, in sentences, and now I encourage you to look for nouns and have them name if it is a person, place or thing!
Writing-we are still working on how letters are formed and sounding out the words that are in our heads and getting them onto the paper! I would LOVE to see more students writing for fun at home and bringing it to class to show to their peers!


Science:
We are working on living and non-living things! We have discussed what "living" things need, (food, water, shelter, air) and what "non-living" things need (nothing!). We did an activity sort in our science journals, and we will continue to work on our science journals this week and next! Don't forget to check out our science notebook during OPEN HOUSE!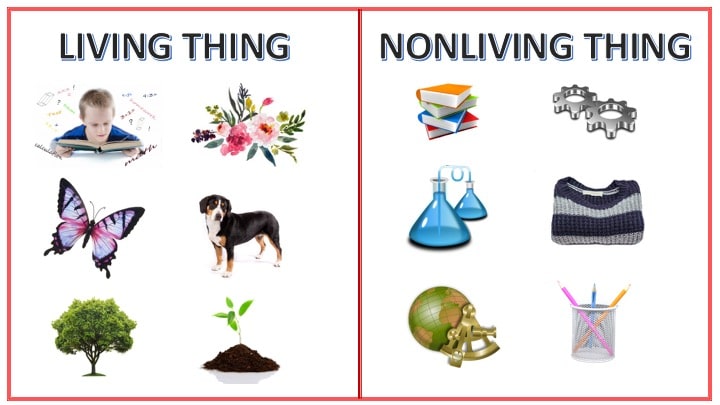 Social Studies:
We are going to be working on Being a Responsible Citizen! We have colored our covers to our social studies workbook! I am excited for the students to make the connections to the real world and and bring those connections back to our classroom!
Religion:
We are still working on what it looks like at Mass. We are working on our lunch prayers and our end of the day prayer! We also have made the connection how lucky we are that Jesus made us to be unique and how special we are to be loved by him!
Book Buddies:
This week, on Tuesday, we were book buddies to the 4k students! We got to be the older of the group and we got to read to the students! We were really interested in looking at books about bugs! Some of those bug books had realistic pictures and they sure did creep me out! They just loved everything about it! We will continue with books buddies every other Tuesday!
Upcoming Dates:
19th -Back to School Night - 5:30pm
20th - Mass 8:15am with adoration after/ Fox Cities Fun Run
25th - 4K No School
27th - Mass 8:15am - Early Release at 11:30am (no lunch, after care is provided if registered)/ 4K Am attends school today, but not extended 4K.